Politics
The so called referendum had a turnout of around 34,2% and the vote was evenly split 50%/50%. There was no ordered vote for secession. The process violates the UN Charta and the russian constitution.
Until 2010 election in Crimea were some kind of democratic under Ukrainian law and supervision.

The Crimean Parliament "Verkhovna Rada of Crimea" has 100 members.
On April 6, 2004 the election law was changed. Rural Councils will be elected by majoritarian system. The Local Councils and the Crimean Rada will be elected by a completely proportional party-list with a 3 percent threshold for representation.
Party Affiliation 2010 : Party of Regions 80 - Kurultai-Rukh 5 - CPU 5. The Crimean Tatars as indigenious people of Crimea have only few out of 100 seats.
956 thousands people, making 63% of 1.5 million people in Crimea with voting qualification.
Enver Abduraimov (satılık)
Refet Çubarov, leader of the Meclis
Edip Gafarov, Party of Regions, Stariy Krim, former Vice-Premier (satılık)
Remzi Ilyasov, Meclis member, deputy Rada speaker
Safure Kadzhametova, Meclis member
Rustam Temirgaliyev, Party of Regions, deputy prime minister since 18.09.2013 (satılık)
Rada Speaker Vladimir Konstantinov (owes Ukrainian banks a lot of money)
former Rada members
Aziz Abdulaev, from Saki, former Vice Premier, former Minister for Communcation, Industry and Transport, former deputy minister (satılık)
Albert Kangiev from Belogorsk
Qadir Osmanov from Kirov
Server Semedlaev from Kirov
Dr. Ilmi Umerov, chief of Bakhchisaray administration, former deputy speaker of the Rada and former deputy prime minister, from Bakhchisaray
Resul Veliullaev, independant business man, from Belogorsk
March 27, 1994 elections - 98 deputies : 55 Rossija List - 15 Sozidariye - 14 KTMM (Crimean Tatar) - 3
                           CCP - 7 indep. - one each Greek, Armenian, German und Bulgarian
                           

Crimean Tatar deputies 1994-1998 : Mustafa Kirimoglu , Nadir Bekirov , Lilya Budzhurova , Refat Chubarov, Sevket Ramazan.
                           
                           
The election law of 18.09.1993 foresaw no representation for the Tatars. After demonstrations, in 14.10.93 it was agreed
                           on 14 deputies for the Crimean Tatar.

In 1994 elections the Crimean Tatars elected their own deputies. Meclis got all
                           14 mandates with 89% of the votes (participation 75,8%). NKDT only gets 5.5% of the Tatar votes. In 1998 the quote was not
                           prolongued with the consequence that the Crimean Tatars lost their representation.

In 1991 Nikolai Bagrov proposed 7
                           mandates for the Crimean Tatars. Meclis refused then. So at the 22 March 1991 elections brought no representation for the
                           Crimeans Tatars.
Crimean Government
Head of Ukrainian Presidential Administration: May 2014 Natalya Popoviç, formerly Sergiy Kunizin (- April 2014) and Andriy Senchenko (acting April - May 2014)
The post of Crimean Prime Minister is changing very frequently as the political forces are very much divided and all but stable.
de facto Prime Minister Sergey Aksyonov since February 2014, wanted by the Procuror General, owes Ukrainian banks a lot of money, criminal past
First Deputy Prime Minister Rustam Temirgaliev
Deputy Premier Minister Ruslan Balbek (satılık)
Vice-Minister for Culture Ismet Zaat
Vice-Minister for Education Ayder Ablâtipov
Deputy for Ethnic Relations Zaur Smirnov
In November 1993 the State Crimean Committee of Nationalities was created.


---
Crimean Tatar Politicians
Güliver Altin (satılık)
Lentun Bezaziyev (satılık)
Osman Kurtseitoglu Adamanov - Head of State Committee for Deported Nations - created 1993
Prof. Dr. Lenur Arifov - deputy prime minister after 4.6.97 - meclis member
Edem Ennanov - former Minister of Social Affairs, from 13.10.1994
Lenur Islamov, former Deputy Premier Minister -05.2014
Seytumer Nimetullayev, former governor (satılık)
Lemara Selendili, former deputy Minister of Education
Enver Umerov - former Minister of Education (satılık)
Crimean Parties & Politicians
Political Organizations of Crimea
Adalet Party (Justice) founded 1995
Agrarian, Leader Ivan Dezhemeryv
CP, Leader Leonid Hrach - The Crimean branch of Ukraine's Communist Party, which Hrach has led for nine years, has 8,600 members.
DP, Leader Anatoliy Filatov
Economic Renewal, Leader Vladimir Sheviov
Green Party, Leader Yuriy Komov
Labor Ukraine, Volodymyr Tuterov and Volodymyr Polischuk
Milli Firka (National Party) founded summer 1993, their leader were Ilmi Umerov and Vasvi Abduraimov (satılık)
National Demokratic Party, Leader Sergiy Kunizin
Organization of the Crimean Tatar National Movement, Leader Mustafa Cemiloglu
Republican Party, Leader Serhiy Tsekov
Social Guarantees, Leader Yukhym Fiks
Socialist Party, Leader Yevhen Melnik, 1607 members
Union for the Support of the Republic of Crimea, Leader Yakob Apter
Crimean Tatar National Movement, Leader Vashti Adburaimov (satılık)
Muslim Party of Ukraine: Leader Farid Akchurin - Crimean Branch: Leader Mars Shafikov
Last municipal elections : March 31, 2002
Mayor of Alushta : Aleksey Nechaev ; Armjansk : Viktor Bogazkiy
Bakhchisaray : Valeriy Kurbatov, re-elected with 2600 votes against Rustem Chiygoz (+1000 votes) and Nuri Suleymanov (250 votes)
Dzankoy : Valentin Sinizkiy
Feodosia : Vladimir Shayderov, re-elected
Kerch : Oleh Osadchiy, re-elected ; Krasnoperekopsk : Sergey Kunizin ; Saki : Vladimir Shvezov (CPU)
Sevastopol : Sergiy Ivanov (appointed)
Simferopol : Valery Yermak (2002: 45.000, 1998: 68.716), re-elected ; Stary Krym : Dmitri Chebishev ; Sudak : Anatoliy Klavkin
Yalta : Sergey Braiko follows N. Diskin
Yevpatoria Andrey Danilenko, re-elected
11.777 Crimeans were candidates for the 6.663 local council posts and 955 candidats for the 296 posts of head of county and village.
The number of Crimean Tatar elected in the 1998 municipal elections is much higher [579] compared to the 1994 elections (20).
In Bakchisaray four Crimean Tatar were nominated as head of County Council and ten as head of County Council but no one was elected.
Bakhchisaray Town Council, 6 of 39 are Crimean Tatars
Bakhchisaray District Council, 8 of 52 are Crimean Tatars
Simferopol City Council: Djafar Bekirov (14) and Ernes Abljakimov (33) out of 50. 22 CPU
Simferopol Kyiv District Council: Kemal Mukuk (28) and Elvis Abibulaev (44) out of 44
4 out of 51 Bakhchisarai city deputies are Crimean Tatars in 2002.
In 2002 CPU 33%, 13 For United Ukraine, 6% Russian Block and SDPUo. 37 indep. 15 CPU 8 NDP 4 Regions 3 Industrians and Bus. Men 2 Agrarian 1 DemUnion 1 LU 1 Union 1 Yabluko. 54 out of 75 Sevastopol city deputies were members of the Communist party in 1998.
There are ten Crimean constituencies for Ukrainian parliament Verkhovna Rada.
Party affiliation 2006:
party affiliation 2002: indep. 3 CPU 2 PDP 2 SDPUo 1 LU 1 Zayedu 1
party affiliation 1998: indep. 3 CPU 3 PDP 2 Greens 1 LU 1
In 2006 Mustafa Abdulcemil Kirimoglu (place 28) and Refat Chubarov (place 61) were elected as NU deputies. Four more Tatars are Rada members from the party of regions Ahmet Rinatov and Ravil Safiullin, Yuliya Timoshenko blok Oleksandr Rafkat Abdullin and Our Ukraine Eduard Djangir Zeynalov.
In 2002 the Our Ukraine joint list of reformists lead by former head of the National Bank and Prime Minister Viktor Yushenko offered three positions on its list for Crimean Tatar candidates, namely Mustafa Abdulcemil Kirimoglu (place 28), Refat Chubarov (place 61) and Eskender Beriev, leader of Crimean Tatar Youth organization, (place 194).
In 1998 the Ukrainian Rukh Party offered two positions on its list for Crimean Tatar candidates, namely Mustafa Abdulcemil Kirimoglu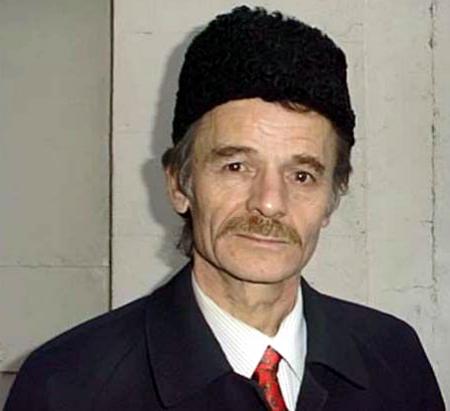 and Nadir Bekirov, for the March 29 parliamentary elections. Mustafa Abdulcemil Kirimoglu (place 9) was elected and Nadir Bekirov (place 45) missed with only a few votes. constituency #1 Central Simferopol - elected Volodymyr Voyush SDPUo 18,99% - Leniye Chakala was candidate in 1998, elected in 1998 Yevhen Leshan (1975) CPU (votes 21.670 23,89% 160.000) #2 Kyiv Simferopol - re-elected Lev Myrymskyi (1960) Labor Ukraine 32,76%/33,28% in 1998, Server Izidinov NU missed with 22401 votes - Nadir Bekirov got 4.206 votes 4,78% in 1998 - Lev Myrymskyi, head of the "Imperia" corporation and one of the most powerful people in Crimea, controls two television corporations, two radio companies and four or five newspapers with a total circulation of about 300,000. #3 Dzhankoi - re-elected Serhiy Ivanov (1952) Greens 21,24%/30,99% in 1998 - Edem Ennanov NU 8,17%/11,27% lost votes to Farid Akchurin 3,96% #4 Yevpatoriia - re-elected Anatoliy Rakhanskyi (1939) indep. 28,37%/33,29% in 1998 - Zenur Yaqubov was candidate in 1998 - deputy since 1994 #5 Kerch - re-elected Viktor Myronenko (1975) CPU 24,89%/30,44% in 1998 - Rashit Seutov was candidate in 1998 #6 Feodosiia - re-elected Valeriy Horbatov, Agriculture Mogul (1955) PDP 53,84/29,55% in 1988 - Ayder Mustafayev NU was candidate in 2002 (lost with 43.560) and Refat Kencaliyev was candidate in 1998- deputy since 1994 #7 Alushta, Yalta - re-elected Ihor Franchuk (1968) PDP 40,03%/42,83% in 1998 - Zaur Smirnov was candidate in 1998 #8 Belogorsk - elected Volodimyr Shklyar indep. 24.92%- Server Saliev NU lost with 6360 votes. Refat Chubarov was elected in 1998 as an independant with 18.499 votes 17,85% of 157.200 - 2.883 votes more than Serhiy Topalov, former CPU deputy and two more Crimean Tatar candidates #9 Krasnoperekopsk - elected Valeriy Yevdokymov SDPUo 25% - Reshat Kyenzha NU lost with 15935 votes - Shevket Qaybulaev was candidate in 1998 with 3.964 votes 3,81% - elected in 1998 Valeriy Khoroshkovskiy (1969) PDP (votes 55.636 53,57% 156.900) #10 Bakhchisarai and Simferopol raion - re-elected Anatoliy Franchuk (1935) indep. 27,57%/34,90% in 1998 - Ilmi Umerov (10.313 10,01%) and Leonid Pylunskiy (520 0,5%) #224 Haharinskyi Sevastopol - elected Stanislav Halchinskyi CPU 15,79% - Serhiy Kondratevskyi indep. #225 Nakhimovskyi Sevastopol - elected Viktor Zaichko Zayedu 30,48% - Vadym Zachosov CPU
Mustafa Abdulcemil Kirimoglu and Refat Chubarov are members of the parliamentary Committee on Human Rights, National Minorities and Interethnic relations.
Results of the Supreme Council vote (Crimea/Ukraine/Sevastopol):
Results of the 31 March 2002 Ukrainian Verkhovna Rada parliamentary elections:
Our Ukraine 113 23,57% For United Ukraine 119 11,77% CPU 66 19,98% SPU 23 6,87% SDPUo 23 6,27% Yulia Tymoshenko 21 7,26% indep. 80
Block of Natalia Vitrenko 3.22% Women for Future 2.11% Winter Crop Generation 1.99% Communist Party of Ukraine (renewed) 1.40% Green Party 1.29% Yabluko 1.15% Unity 3 1.01% Democratic Party/Democratic Union 4 0.88% NED 1 0.35% Maritime Party 1 0.11%
results in Crimea/Sevastopol: CPU 34,03%/32,74% SDPUo 12,50%/3,68% Our Ukraine 9,88%/3,01% Zayedu 5,85%/13,29% Block Rus 4,71%/8,86% Yulia Tymoshenko 1,44%/2,27% SPU 0,76%/1,43%
Mikoly Zhulinskiy, Volodimir Sherban, Petro Ziganko, Igor Bugayov, Valeriy Fedoreyko, Nataliya Moskovska, Yuriy Senyuk and Gennadiy Dorochshenko are Liberal Party candidates on the Our Ukraine-list
Newly appointed Deputy Premier Mykola Zhulynskyy is deputy head of the Liberal Party. Jan 2001
Kyiv deputy Oleksandr Rafkatovic Adbullin, DPU from 13.09.1998 to 2002 Kyiv deputy, since 2002 Rivne deputy
Ravil Safiullin, oligarch from Party of Regions on Zayedu list.
Results of the 28 March 1998 Ukrainian Verkhovna Rada parliamentary elections:
CPU 39,34%/24,6%/46% Rukh 6,77%/9,4%/1,8% SPU/SelPU 1,63%/8,6%/1,6% Greens 5,70%/5,4%/5,9% PDP 4,42%/5%/6,9% Hromada 2,92%/4,9%/2,6% PS 1,48%/4%/1% USDP 2,05%/4%/1,3% Reality, People, Ukraine 1,5% - Agrarian 3,18%/3,7% Reforms and Order 0,79%/3,1% Working Ukraine 1,28%/3% NF 0,16%/2,7% Labor-Liberal 0,68%/1,9% Forward Ukraine 0,18%/1,7% CD 0,60%/1,3% DemPU-NEP 1,22%/1,2% NED 0,68%/0,9% Slon 1,36%/0,9% Union 10,68%/0,70%/2,25%
CPU 123 Indep. 114 Rukh 46 Soc. Party 34 PDP 28 Hromada 23 Green 19 PSP 16 SDP 16 Agrar 8 Rest 23
---
Referendum on Crimeas Autonomy: 20.01.1991. 1.441.019 casts, 1.343.855 pro Crimean Autonomous Soviet Socialist Republic
February 12, 1991 The Upper Soviet of Ukraine accepts the Autonomy of the Crimea
Crimea gets a new constitution on 25.02.1992.
Before the adoption of a new constitution and parliamentary elections the Soviet of the Crimean Oblast elected a Crimean Upper Presidium. Head of the communist party Nikolai Bagrov became President of Crimea.
A new Crimean constitution has been accepted by the Ukrainian Parliament. December 15, the first draft had been rejected. The passage of the constitution evoked immediate protest from Crimean Tatar activists, who argue that the new constitution does not adequately protect the rights of minorities and of formerly deported peoples. 23.12.1998
---
First and last Crimean presidential elections: 15.01.1994 - Juriy Meshkov (Russian Block)
Newly elect president Meshkov proposes the unification with Russia. When Meshkov and the Crimean parliment propsed a referendum on Crimean independance, Ukraine abolished the post of president of Crimean and the current constitution on 17.03.1995.
---
31.10.1999 Ukrainian Presidential Elections
12.100 out of 22.603 Crimean Tatars living in Bahchesaray have the right to vote. 11.495 of them participated in the run-off. None of them voted for the communist Symonenko. President Leonid Kuchma got a total of 17.498 votes.
26.12.2004 Ukrainian Presidential Elections
Presidential Candidate Victor Yushenko got between 4 and 15% of the votes in Crimea. The communists and the group supporting prime minister Kunitsin supported the candidate of the oligarchs, Victor Yanukovich.
Why don't you give me something hard to do? Crimean Tatars Homecoming and political participation 1. " Returning to a native Land." First of March, 1988 - the Communist Party of Ukraine has accepted the decree, " regarding reception of families from among Crimean Tatars", and 14 and November 28, 1989 the supreme Body USSR has accepted the declaration, "About an admission of illegal repression of the acts... " And decreed "... On a problem Soviet Germans and Crimean-tatar people." These decisions were fortunate for Crimean Tatars, who have received a real opportunity to return to Crimea, having state authority support and broad material support. Between the years, 1989-1990, about 100 thousand arrived on the peninsula. From 1991 to 1994, about another 100 thousand. After disintegration of the USSR in 1991, the numbers steadily reduced: in 1992; 30 thousand, in 1993; 19 thousand, in 1994; 12 thousand. In 1993 have appeared also first leaving Crimea — 1,5 thousand people. (In 1994; already 5 thousand). Though in 1995, on a peninsula some more Crimean Tatars arrived - about 9 thousand, the general gain of the population of Crimea, for the first time in many years, has become a negative value. If at the end of the 1980's, returning Crimean Tatars to Crimea was still a spontaneous process. From the beginning of the 1990 years, it became increasingly organized. Governing of the process was undertaken by Mejlis, elected for the first time by the Kurultay of the Crimean-Tatar people in 1991. Interested in the greatest possible number of their own compatriots to return to the peninsula, it applied many efforts that Crimean Tatars continue to come here after the USSR dissolved. In addition, the purpose — resettling a minimum of two hundred thousand Crimean Tatars on their historical native land — was achieved. Now more than 250 thousand Crimean Tatars live on the peninsula, that number has hardly increased at the expense of high birth rate per the first years after returning. They form about 10% of the population of the region. Predominantly these people are extremely dissatisfied with their modern economic situation and social status. It is intolerable to not be considered with their political concerns (officially expressed by Mejlis). 2. Geography of moving. The disintegration USSR has not allowed to the full to embody in life the program of moving Crimean Tatars. However, as those preferred to settle indiscreetly, the territorial arguments, incorporated in 1989-1991 years, of moving in many respects have determined its state of the art (its modern condition.) There were three serious projects of accommodation of the Crimean-Tatar population: the Moscow centre of an independent expert appraisal, Ukrainian Academy of sciences and a project which has been drawn up on the offers Crimean occupants of the territory. The Moscow program envisioned moving 320 thousand individuals, Kyiv — 350 thousand, Crimean — 200 thousand individuals. Moscow analysts offered active movement of Crimean Tatars to cities on the peninsula, whereas experts from the Academy of Sciences would arrange the basic population in rural terrain. The Crimean program was closer to the Ukrainian project, which was elected as a practical management for an organized return movement. As a result, the number of voting Crimean Tatars living in cities was insignificant - from less than 1 thousand individuals in Krasnoperekolske, Sakakh, Yalta, Kerch up to 9 thousand in Simferopol (based on data 27.03.94). The share of Crimean Tatars in the electoral body of cities practically everywhere (except a few at Sudakskogo) formed less than 5%. Moreover, accordingly, the opportunities of Crimean-Tatar electorates to influence results of choices in cities were extremely small. Incomparably more, they were in administrative regions of the peninsula, where the share of Crimean-Tatar electorate everywhere exceeds 10%. Including in Pervomajskom, Dzhankojskom, Soviet, and Bakhchisarai regions, it varies at a level between 15 to 20% - in Belogorskom and Kirovskiy, 20 - 25%. In total, 81% of the Crimean-Tatar voters lived at administrative areas, and just here, they could render substantial influence on results of choices. 3. General characteristic of choices in 1994. Actually by ignoring multiple elections and referendums between 1990-1991, Crimean-Tatar Electoral voted for the first time only in 1994. 1994 was time of peak period of political activity in Crimea, (beginnings in 1990-1991) and was bounded to the formation of the independent Ukrainian State. Between the years 1991-1993, the Crimean management in rigid strife with the Crimean Assembly authorities managed to create a legislative base, giving Crimea a significant economic and political independence in realization of reforms. However, the economic crisis of 1993 bated at many voters a faith in prospects of regional development. At this time large popularity has began to use the idea "of return in Russia," which one "decided" problems of region principal and immediately. Moreover, the victory on choices was gained by the leader of the selective block "Russia," instead of party authorities. The celebration of the "Russian" idea on presidential choices has determined electorate performance of the Crimean voters during all choices, which have followed further in 1994. So, in the course of choices of the Supreme Soviet of Crimea, the voters again have backed up the candidates of the block "Russia," which occupied an absolute majority of places in parliament. When, in 1993, there was a discussion of the Crimean law about choices of the new Supreme Body of republic, Crimean Tatars conducted a number of political actions with a requirement to take into account their concerns in this law. The open shares of disobedience have compelled local management to accept adendas to the document, stipulating a separation of 14 places in the legislative organ of Crimea for Crimean Tatars. The greater role in acceptance of these additions was played by N. Bagrov. Consequently the deputy elected on the Crimean-Tatar national multi-mandate district, represented concerns of only 9,598 people. The deputy elected on a territorial one-mandate district — On the average 28,342 people. However, the deputy elected on multi-mandate "national assembly" to a district, — represents 123,430 people. The local voters have responded to elections of the President of Ukraine rather languidly; evident insignificantly increased in comparison with elapsed parliamentary choices. As the "Russian" idea by then was even popular among the population (though the local administration already has urged many to be disillusioned in itself), the favorite in the region was L. Kuchma, who was acting for close economic federating with Russia. Nowhere in the Ukraine was this candidate so popular as in Crimea (in Donetsk field for him gave back votes 53.6 % of the voters, but in Crimea — 83,2 %). Victory in the first round of choices of the working president L. Kravchuk, instead of ex-premiere L. Kuchma, resulted in electoral growth activity in Crimea — was augmented evidence of the voters and the increased number of supporters of the candidate. The elections of the Supreme Soviet of Ukraine in some districts proceeded also in 1995. Here candidates of pro-Russian and pro-Russia organizations were practically absent, but several places have received co-partners. In 1994, as a whole, in Crimea 12 different rounds of voting have passed. Politically, these elections were successive — within a year, Crimea successively defended its "germinating" position. In similar form, choices to choices of political conditions voted also Crimean-Tatars electorate. On choices of the Supreme Soviet of Crimea, it voted autonomous, but on choices of the Presidents of Crimea and Ukraine, it voted more as a large electoral body. By 1994, a powerful mix of the Crimean-Tatar people was already formed. In the course of the year, precisely decided, practical problems faced it on her way to the authorities of the peninsula. The elections of 1994 were its main examination, after which went "Or greatness, Or oblivion." 4. Motives of the Electoral - Behaviour --1994 Elections. Crimean-Tatar electorate conduct is organized. The majority of voters obediently were on site and voted for the specified, managed candidates: N. Bagrov, L. Kravchuk, list Kurultay; in one-mandate districts; for their own Crimean-Tatar candidates. Motives of the electorate as a performance or Crimean Tatars were defined by two ideas, dominant in the national self-consciousness: "exclusiveness" and "underdog." The roots of these ideas lay in 1944, but they became prevailing only during returning Crimean Tatars to the peninsula. So, the idea of uniqueness has acquired "weight" after declaration of the program of returning deportees of the peoples as one of the most important in USSR. The program has received large financing (moving only of one-person cost 25 thousand roubles). In Crimea, Crimean Tatars returned with the unambiguous desire to relocate here that is why all decided questions of residence rather aggressively. If in 1944, authorities were not considered with concerns of deported Crimean Tatars, then in the end of the 80's and 90's, Crimean Tatars did not consider it necessary to take into account concerns of the local, existing population. In 1991 when the USSR dissolved, concerns of the Ukrainian authorities to the program of returning and repatriating Crimean Tatars was insignificant - financing volumes were sharply reduced. In addition, in 1991, reconstruction occurred of the Crimean autonomies, but the base was prescribed territorial, instead of a national principle. Because of "historical interception," the hope for creation of an autonomous Crimea within national contents practically disappeared. In 1991, the idea of "underdog" becomes one of dominant national self-consciousness for Crimean Tatar. Consequently, in 1994, the Crimean-Tatar constituents preferred to vote for those already in authority. On behalf of whom they found support and protection, instead of for new people, whose attitude to the program of their returning was more indifferent or openly hostile. The coverage on choices of the promoted candidates has only boosted significance dominance in national self-consciousness of Crimean Tatar ideas of "exclusiveness" and "underdog." 5. Elections of the Supreme Soviet of Crimea (March 27 and April 10, 1994). Elections of the Supreme Soviet of 1994 entered Crimean Tatars into the authority — 14 deputies were elected on the Crimean-Tatar national multi-mandatory district by the rules of proportional system of representation. Crimean-Tatar voters had the right to vote or on proverbial to the party lists, or on national. However, almost all preferred to select on "assimilation." Four political associations have taken part in choices: Kurultay of the Crimean-Tatar people, National movement Crimean Tatar (NDKT), Crimean republican Fund of Republic of Crimea, Crimean-Tatar fund of Republic of Crimea. The main contenders emerged - Kurultay and NDKT. The first acted for formation of the national state Crimean Tatars (what it was before 1778). The second — for construction of analogue KrASSR - between the years 1921-1944, Crimean Tatars used the limited autonomies, and never was an ethnic Crimean-Tatar republic. Victory on choices has gained Kurultay (semi-official, party authority), by collecting 89% of votes that enabled all quota-elects of a place in parliament. NDKT has received support only 5,5 % of the voters. The share of votes of Kurultay was little bit above in areas, NDKT — in cities. The least support for Kurultay and greatest NDKT was rendered by the voters of Yalta, Dzhankoya, to Evpatoria, Soviet, and Black Sea areas. Yalta — is a unique city, where the share of votes NDKT exceeded 20%, and Kurultay fell below 70% - but evident here was a minimum voted (59%), and the number of the voters is insignificant (605 people). At the same time Kurultay has collected more than 80% of votes nearly in all administrative regions, where more than 75 % of voted, and the number Crimean Tatar varied from three up to fifteen thousand people in unit ATD. Crimean-Tatar candidates were put to the vote in one-mandate regions — 35 people, predominantly leaders of local organizations Mejilis. The majority from them went in village areas, where they could expect broad support of the ethnic voters. In cities of the peninsula, Crimean-Tatar candidates were put forward only in Simferopol, Evpatoria, Yalta and Sudake. In capital of Crimea the elections passed for them extremely unsuccessfully — at 9 thousand voters for the Crimean-Tatar candidates, less than 700 votes were given away. Mobilization of the electorate in Evpatoria managed much better and Sudake; majorities of the voters were on elections and have backed up candidates. Moreover, in Yalta for them were given away not only vote ..., but also Slavic population; About 40% voted have supported the Crimean-Tatar candidates. However, such event in history is the only one in the most current elections. In the majority of administrative regions Crimean Tatars actively have taken part in choices on one-mandate districts and have supported the "adopted" candidates. In Dzhankoj, Krasnoperekop, Pervonaj, Sakskoy, Kirov and Soviet areas shares of votes assembled by candidates, compounded more than 70% from the number of the voters in these units: ATD - in Simferopol, Bakhchsarai, Razdolnen and Nizhegorskoy areas — from 50% up to 70%. However, in Leninskom and Belogorskon areas, there are less than half of the votes. Since the Crimean Tatars were in minority in all electoral counties of Crimea, any their standing was not elected by the deputy, though in sum they have collected in the first round — 78,860 votes, and in second — 54,538 votes. The ten candidates left in the second round went on to electoral counties in Bakhchsarai, Belogorskogo, Dzhankojskogo, Kirov, Pervomajskogo, Krasnog-vardejskogo and Sakskogo. Eight of them uniquely already lost on March 27, and only in districts Belogorskogo region a breakup of the leading candidates was minimum by 1-4%. However, on April 10 here again difference in quantity of votes has increased up to several thousand.) You see in the first round on territory Belogorskogo region for "adopted" candidates voted less than 30% of the Crimean Tatar voters. Nevertheless, it signifies reserves for the growing support in the second round of voting.) However already fact of an output itself in the second round of the Crimean-Tatar candidates testifies to what can be achieved politically with an organized electorate. 6. Elections of the president of Ukraine (June 26 and July 10, 1994). The participation in choices of the president of Ukraine Crimean Tatars under doubt did not put any more. Moreover, in the first round whenever possible widely have backed up L. Kravchuk. The high correlation factors testify to it: 0.75; Crimean Tatars and L. Kravchuk, and (-0.59); Crimean Tatars and L. Kuchma. However, support of the latter in Crimea was so general, that the majority Crimean Tatars, by realizing futility of their efforts, have preferred to ignore the second round of voting. Significant positive correlation with L. Kravchuk is absent (as well as with a gain of votes of the candidate in the second round), and the correlation factor with L. Kuchma has grown to (-0.70). Such electoral performance was peculiar first of all to rural population compounding a matrix material Crimean-Tatar electorate, in cities the support L. Kravchuk in the second round of choices has remained high (0,78). 7. Elections Kurultay in 1996. In 1996 the next elections Kurultay of the Crimean-Tatar people have passed. Its results were obviously forged: as differently could be received, that practically in each city, region the number of the voted voters was aliquot to one thousand. Truly, the declared slogan is truthful, that one deputy of Kurultay represents one thousand Crimean Tatars. Such frank adjustment of results of voting testifies that, Kurultay (and Mejlis picked by it) in 1996 were for the Ukrainian authorities the single plenipotentiary representative of the Crimean-Tatar people, and consequently were unpunished. The elapsed "national" elections precisely have recorded that fact, that the influencing Mejlis among the Crimean Tatar population is moderated. Therefore, evident on elections has formed only 55%, were exhibited several of the contradictions between regional branches Mejlis and Centre. In particular, in "opposition" of Evpatoria in voting 21% only of the voters have taken part, and one deputy represented at all one thousand (as under the distribution list), but only 608 people. The reason of falling popularity of "authorities" is the abrupt social gravitational segregation of the people on the very rich and very poor people. Modern Crimean Tatar elite intentionally do not decide, for example, the housing problems of the people (economic opportunities for their gradual decision are.) Because the very heavy economic state of the majority Crimean Tatar allows to insist on constant ... of their existence on the part of the state. It enables a management by the district attorney "arriving" money in "offices" and even to spend them at all as required. Also, to monitor a significant part of the Crimean Tatar population, using for this purpose financial whip and financial gingerbread. But so much for leads to the reinforcement of discontent by their own unofficial leaders not only "other" part of the population, but also separate regional branches of the Mejlis itself. 8. Elections of the Supreme Soviet of Crimea and Ukraine in 1998. In 1994 the Crimean-Tatar representatives have appeared on the top of a political pyramid of the region. With 1994 over, for 1998 they actively conducted policies of penetration "of the people" in all government bodies. Therefore, results of choices of 1998 have for the Crimean-Tatar management principal significance: necessary to save its sphere of influence. As is well known, the introduction of the quotas in the Crimean parliament for deported peoples was temporary and was distributed only to voting per 1994. The decision on it was accepted on session of the Supreme Soviet of Crimea, and mass organized political shares Crimean Tatars (in Crimea there lived about 150 thousand people) in many respects have defined it. By 1998 before the Crimean-Tatar management there was a problem to achieve the record-keeping of the concerns in the new law on choices. But, despite of all diligence by Mejlis, in the new law on choices any privileges to a national attribute are not provided and election of the deputies of the Supreme Soviet of Crimea will go on only by the rules of majority system of representation. The decision on it, what will be the accepted law, pleased sovereign Ukraine. Therefore, actual liquidation of an Autonomous Crimea (deprivation of a peninsula of all substantial opportunities "self-reacting" existence) has resulted in defying the interests of the whole population of the region, not exclusive of Crimean Tatars. For a long time, Crimean Tatars struggled for reinforcing of their own positions in Kyiv. For a long time, they achieved acceptance of the law about choices that take into account their direct interests. Their activity in an inter-elective period seemed successful. But the pre-election arrangement of strengths was added up at all in their advantage (benefit). And when all possible arguments, were settled, how at one time in 1993, the threats of boycott of choices, realization of the mass shares of the protest have sounded. But soon " internal disassembly " in the Crimean Tatar management sent on to the general public, and it has become clear, that Mejlis has lost its united stand. Moreover, awesome pleas have not seemed convincing to Kyiv. Crimean Tatars have been left out "from the game" during an extremely relevant pre-election period. And though on elapsed in December, 1997 extraordinary Kurultay there was a visible recovery of unity, the Crimean-tatar management has appeared actually "dislodged" from their own old political positions. Fact of originating of such situation testifies that of Kyiv does not patronize any longer Crimean Tatars. This is confirmed also by the newest political events. Today, active political activity of Mejlis it is not simple "mired" in indifference of the officers. The state organs are ready for operating an any minute (so, any more of time during demonstrations Crimean Tatar in city center armed special forces "internal right" the Ukraine were arranged in neighboring court yard). Now for Crimean Tatars, there are only two opportunities to get in representative government bodies of Crimea, Ukraine. One of them is a sale of their own votes. Such "bargaining" was held between Mejlis of the Crimean-Tatar people and Ukrainian nationalistic organization Rukh. During conclusion of "bargaining", when it was supposed the elections will go on the mixed selective system, it was very successful. On choices of the deputies of the Supreme Ukraine Rukh, small-popular in the south and east of Ukraine are pleased, will receive plenty of votes in Crimea (where its support in general is minimum.) But Crimean Tatar "roof" on elections to the Crimean parliament on a multi-mandate region. In addition, two Crimean Tatars were included in the selective list of the Rukh and for the first time will become deputies in the Supreme Ukraine (pleased the leader of the Mejlis M. Dzhenilev) in the list the ninth place, and its nearest fellow-champion N. Bekirov — 49). However, stipulating electoral policy, neither Rukh, nor Mejlis did not take into account "moods on places." A conceived plan to include in the list Rukh a greater number of Crimean Tatars has met fierce resistance both inside Mejlis itself, and in the Crimean organization Rukh. In a counterbalance to Centre the areal branches Mejlis in Sevastopol and Alushte, have accepted the decision to back up a Muslim party on forthcoming choices. Among adherents of Rukh in Sevastopol, there was a present opposition of the fathers and children - the senior generation accustomed to party discipline. They stood for realization of, "lines from above." However, the youth refused to obey, and raised an objection to include candidates of Mejlis in the lists of Rukh. Opposition was prescribed only then, when it became clear, that the elections will not go on to the mixed system. The anchoring of majority system has made impossible to get in the Crimean parliament under the selective lists. Because of the tenders Mejlis has won one-two places in the Ukrainian parliament, received lobby (on behalf of Rukh) concerns in Supreme Soviet of Ukraine, and healed growing popularity in Crimea. The unsuccessful pre-election operations on a background of financial and political scandals bounded to a name M. Dzheyileva, severely bated the electoral base of the Mejlis. It was changed not only quantitatively (narrowing in the party), but also qualitatively. Among the supporters of the organization becomes ever less than "conscientious" voters and ever more "temporarily organized." The second path of arrival of the Crimean-Tatar candidates to an authority is an election in one-mandatory districts, where they will go on the same level with all other challengers. On all probability, with the purpose of pacification restrained in the rights of Crimean Tatars, on choices of the Supreme Soviet of Crimea for them will be cut from "his" districts. The only question in that is how many will be of these districts. In any case, the representation Crimean Tatar hereafter of an autonomous parliament will decrease sharply. In the "their own" districts Crimean-Tatars can apply for support of the voters to three political strengths: Mejlis of the Crimean-Tatar people, Consignment Muslims of Ukraine and National Movement of Crimean Tatars. Mejlis is strongest by the organizing opportunities the Crimean-Tatar structure. Apparently a maximum quantity of votes, which one Mejlis can ensure in the support, is about 50 thousand. Such quantity of signatures promised the Crimean-Tatar management to collect in support of Rukh (and you see them to collect easier, than vote on choices). What "weight" will have this electorate, hardly depends on what will be number of the Crimean-Tatar voters? Most likely, to vote for the deputies in Sovereign Radu of Ukraine in 1998 there will be only Crimean Tatars having Ukrainian citizenship. Acting recently before Crimean-Tatars, speaker Supreme is pleased A. Moroz once again has pointed out firmness of an authority in this question. Thus, Ukrainian Parliament in 1998 will elect only 90-100 thousand, instead of 160 thousand (in 1994; 140 thousand). Taking into account, that Crimean-Tatar political electorate is not uniform, and its indifference and disappointment in the leaders are comparable with "slavic" (we shall recollect, that 55 % of the potential voters) have taken part only in choices of the delegates third Kurultay, it is not necessary to speak about severe influencing voting Crimean-Tatar on results of these choices. The truth, acting before demonstrators, A. Moroz nevertheless has promised Crimean Tatars to raise March 24 (it besides, that the elections 29th) on meeting Supreme are pleased a question on participation) all Crimean Tatars in choices of the Supreme Soviet of autonomies. If in Supreme Radu, where at Crimean Tatar now is guaranteed lobby (Rukh), the satisfactory conclusion will be accepted, the popularity of Mejlis will powerfully increase. That will allow it to mobilize all "its" electorate and forthcoming elections it can again win. However, if the decision will be negative, the small number of the Crimean-Tatar voters can turn back their coverage even in "their own" one-mandate districts, and the epoch political hegemony of Mejlis will approach toward termination. We see the apparent rates made by the Crimean-Tatar management in the game for power today is higher than in 1994. Mejlis of the Crimean-Tatar people having rich experience of pre-election struggles, and today defines "rules of national game." During pre-election campaigns, the circulation goes toward all those motives of exclusiveness and underdogs. One of pre-election trumps is the question on citizenship. It is much more favourable to be dwelling in Crimea Crimean Tatars economically by citizens of Uzbekistan, and Mejlis is conscientious "does not promote" receiving Crimean Tatar citizenship of Ukraine. After all this, the undecided problem enables defeat for the rights of the person in a pre-election period thereby achieving growth of the popularity to the detriment of its opponents. Moreover, most important is an opportunity to gain a substantial political victory, which promotes mobilization of all strengths, which does not oblige anything after choices are made. Today at Mejlis one purpose of strife at an authority there are only its proteges: only Mejlis should represent concerns of Crimean Tatars in all government bodies, and will let fewer deputies (Crimean Tatars) but all from Mejlis. How here to not recollect 1994, when M. Dzhenilev spoke, that if NDKT will conduct in the Crimean parliament though one candidate (on fourteen quota seats!) there will be a loss Kurultay-Mejlis. Nevertheless, in realization of this pre-election program it is prevented by other political strengths. The Muslim Party of Ukraine, which has been created in the southeast of Ukraine, certainly cannot avoid the attention of Crimea - the majority of Muslims of Ukraine lives here. It is logical, that the leaders of Mejlis call her not differently as "as a Muslim Party enemies of Ukraine," as she creates alternative new, obscure before, choice for Crimean Tatars. Even more so, the Party is dangerous, regarding aggregate political strengths previously connected with the Mejlis. This and some "opposition" from the number of former members of Presidium and members of a number of regional organizations. In its electoral list out of 19 persons, four Crimean Tatars (among them the chairman Sevastopol Mejlis, acting member Milli-Mejlis). Apparently, in the Ukrainian parliament the Party nevertheless will not get - in one of known societies and does not overcome the 4%- barrier. The exception compounds at Crimea, where at the given stage, this Party is engaged in strife with Mejlis for votes of the voters, stimulating thereby political discord in the Crimean Tatar environment. The statement of V. Chernovila testifies to the substantial danger of such actions that DMU delays votes of the voters - Muslims, who could vote for Rudkh. Attempts somehow to divide sphere of influences in Crimea between Moslem organizations also were unsuccessful before — N. Bekirov has returned empty-handed after negotiations in Donetsk, but already his trip there testifies to the severe concern of the Mejlis. It is difficult to tell what strengths face for DMU, who is this young, strong and aggressive predator, ready to fight for acquisition of new territories, or pre-election formation constructed and sustained? For a weakening of the Mejlis role and splitting Crimean Tatars. It is very complex, perhaps, to speak about the popularity and magnitude of influencing a National movement of Crimean Tatars. It is bounded by methods, where this organization conducts a very old struggle, converging further congresses, and local regional authorities. Private conversations and other, it is exclusively insider inwardly ethnic contacts - therefore their activity is implicit and very difficult to evaluate its efficiency. Only elections can determine it. On the one hand, on choices of the acting Supreme Soviet of Crimea in NDKT has received only 6% of votes of the electorate in 1994. This in terms of an opposition with Mejlis, that is to say, organizing all opposition of power to it. Now they should divide these strengths with present "opposition fragments". Moreover, the popular Communist Party, in the informal pre-election block who probably suits NDKT, among Crimean Tatars (by virtue of historical circumstances) is very insignificant. But on the other hand, for four years a lot of water has flowed away, and it is possible, that many voters "leaving" from Mejlis, "came" to its main and old opponent; NDKT. Its leader V. Abdurainov thinks, that if the constituencies will be cut with provision for seats of indiscreet moving Crimean Tatars, in many from them will win the candidates of Mejlis the representatives of National movement. Today NDKT works at that popularity. And that it exactly "has untwisted" a history of plunder of means selected on condition of Crimean Tatars (and the role of the leader of the Mejlis in it is very unattractive). The national movement forms an opposition of Mejlis in one-mandate districts on choices of the Supreme Soviet of Crimea, but the Muslim Party; in multi-mandate districts are pleased on selection of the Supreme Ukraine. In the pre election campaign, these organizations settled the problem of propaganda of their own changes from Mejlis. The ensuring maximum high showing of the voters — necessary to obtain opposition of the supporters of Mejlis and its opponents directly inside Crimean-Tatar environment. However, this substantial scenario can be realized only on future choices. Today, even under adverse conditions, Mejlis will remain "leader" of the Crimean-Tatar people. Nevertheless, if it will gain an absolute victory, will be those still long. However, if it ... absolute victory, will it last long. (c) 1998- All Righs reserved, Turkistan-Newsletter
---
LATE RUKH LEADER RECEIVES 'HERO OF UKRAINE' TITLE. Ukrainian President Leonid Kuchma has signed a decree posthumously granting the title of "Hero of Ukraine" to Vyacheslav Chornovil, a famous Soviet dissident and leader of the Popular Rukh of Ukraine, Interfax reported on 22 August. Chornovil, who died in a car accident last year, was also given the Order of the State for "the significant personal contribution to the national revival of Ukraine, consistent promotion of the ideas of independence, [as well as] vigorous social and political activity." ("RFE/RL Newsline," 23 August 2000)